Invitations are provided. On the day we begin with lots of pony themed colouring in and in excess of 50 different my little ponies with various accessories to play with. Also not forgetting the trail ride game. You will have a minimum of two enthusiastic children's entertainers, dependent on numbers.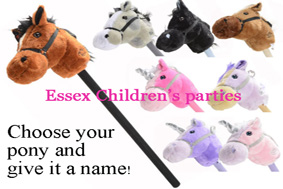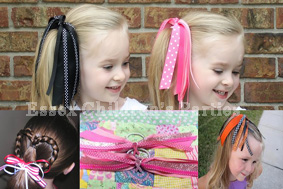 Once everyone has arrived and settled we begin by adopting a hobby horse for the duration of the party and giving it a name - Buttercup, Star, Honey?
Then we make our very own ponytail ribbons, match your pony, your outfit? Your hosts will do hair ups, put plaits, french plaits or ponytails into your hair with these and they are yours to keep.
We play games like hay hunt, hot to trot, sugar cube throw and sleeping ponies. With prizes of stickers and sweets.
After games we stop for a variety of sandwiches, carrot sticks and dips, apple slices with creme fraiche, crisps and not forgetting mints - everything a pony loves. Table cloths, Pony plates, pink cups and fruit juice are also provided.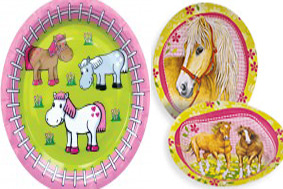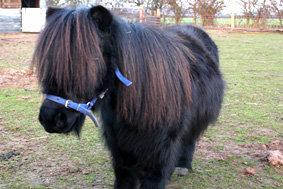 After eating we have an amazing hobby horse gym khana! With obstacles and rozettes for prizes.
and finish with the trail ride game.
Beautiful organza going home bags are provided with pony goodies and horse chocolate lollies. Ribbon ponytails, coloured pictures, rosettes and a certificate are all for your guests to take home. Ponies however have to stay!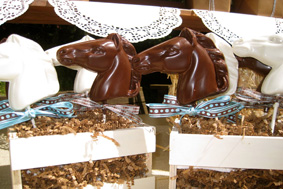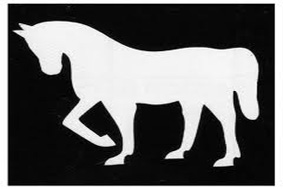 *Add pony themed glitter tattoos for only £3 per child - see additions page
**A professional photographer can be provided for £150 for your party duration, all photos your copyright on disc!
This party can be held in or out doors, however please forwarn us if there is minimal space so we can ensure games are appropriate.
PARTY DURATION: 2 Hours
PARTY COST: £229 for up to 8 children
+£12 thereafter
+a real pony for rides £150
+a minature pony visit for fussing £70